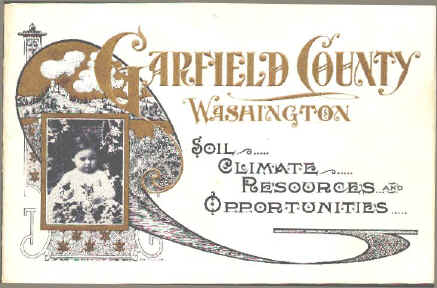 The cover of a booklet published in 1908 to entice businesses to move
to Pomeroy and Garfield County.
Washington State map showing Garfield County's location
A short history of the beginning of Garfield County
Joseph and Martha Pomeroy, town founders.
A drawing of their grandson Eugene "Buster" Pomeroy.
Here's dapper Harry St. George
An economic view of Garfield County
Pomeroy's Main Street through Time. . . a series of photographs showing the changes along main street through the 1900s.
The Garfield County Courthouse, located in Pomeroy Washington
Post Office honors Lewis & Clark and the Corps of Discovery
The Post Offices of Garfield County
President James Garfield on postage stamps
The Howard Hughes Bus which was located in Pomeroy, Washington.
How Pomeroy's Historic District was Born