2007 Funeral Notices and Obituaries for Pomeroy Related People
Ada Margaret (Lueck) Niebel
Ada Margaret Niebel passed away Saturday, Nov. 24, 2007, at St. Joseph Regional Medical Center in Lewiston from a blood clot in the brain.
Ada was born Oct. 23, 1937, to Harvey Lueck and Wilma Jean Brink Lueck at Davenport, Wash. She attended schools in Davenport before coming to Pomeroy in 1949, graduating from Pomeroy High School in 1955.
Ada and Delbert Lee Niebel were married June 12, 1954, in the Pomeroy Church of the Nazarene. In the early 1970s, she worked as a cook and waitress at the Kozy Korner Cafe in Pomeroy.
Known to many in Garfield County as "Aunt Ada," she was a kindhearted, loving person to all, and she enjoyed watching her grandchildren growing up, then becoming a great-grandmother and watching her great-grandchildren.
She raised large gardens and took pleasure in cooking, baking, canning, and entering exhibits in the county fair. She also enjoyed reading, playing cards, going on huckleberry- and mushroom-picking excursions.
Ada was a member of Pleasant Grove Grange No. 978, and a Gold Sheaf member of more than 50 years, serving as secretary for many years. She also belonged to the Spade Swingers Garden Club, the Pleasant Grove Economics Club and the Pomeroy Boosters Club in the early 1970s.
Besides her husband Delbert at their home on Niebel Grade, survivors include her son, Gary of Pasco, Wash.; daughter, Karen Solt, Oak Harbor, Wash.; son, Glen in Pomeroy; one grandson, three granddaughters, a great-granddaughter and a great-grandson; a sister, Sandra Holderbaum, Lewiston, Idaho; a brother, Dwaine Lueck, Fort Mojave, Ariz.; and several nieces and nephews.
A brother, Larry Lueck, her mother Wilma Jean and her father Harvey Lueck, and nephew Michael Lueck preceded her in death.
A memorial service was conducted at Richardson-Brown Funeral Home in Pomeroy, with the Rev. Frank Musgrave of Pomeroy Christian Church officiating. Inurnment followed at Pomeroy City Cemetery. Memorial donations may be made to the Eastern Washington Agricultural Museum, in care of David Ruark, Malone Hill Road, Pomeroy, WA 99347; or to a charity of one's choice.
John (Jack) William Meyers (1916-2007)
John (Jack) William Meyers, 91, of Pomeroy, passed away Monday, Sept. 3, 2007, at Memory Manor Nursing Home in Pomeroy, after a long battle with Alzheimer's disease.
Jack was born in Pomeroy March 28, 1916, to William Lucas and Mary Elizabeth Meyers. He attended elementary and high school there and also received two years of education at Washington State University in Pullman.
He returned to Pomeroy joining his father in business, before joining the Marines in World War II. Based in Edenton, N.C., he flew B-25 bombers on submarine patrol between Texas and Maine, and was also a flight instructor.
He married Sybil West April 30, 1944, in Elizabeth City, N.C. Their first child, John, was born Sept. 5, 1945, VJ Day.
After the war they returned to Pomeroy, where Jack opened Meyers Hardware, along with his father, who had a leather harness shop. Jack and Sybil had four more children, Karen, Gary, Raymond, and Thomas.
He was a wonderful father, husband, and friend, and always made time for his top priority, his family. Although he had many trials in his life and had a strong business sense, it was his strong faith in God, his easy-going demeanor, his uncanny ability to fix anything, and his intrinsic ability to smile, laugh and enjoy life that he will be most remembered and respected for.
He was a devoted member of Holy Rosary Catholic Church and also belonged to the Knights of Columbus, the Pomeroy Chamber of Commerce and the Elks.
Jack was an avid pheasant, goose and deer hunter and enjoyed fishing for bass on the Snake River and trout on the Tucannon, all his life.
He retired in 1982, at which time his son, Thomas, took over the hardware store. He spent much of his time with his greatest joy, his grandchildren, and also enjoyed ocean salmon fishing with his son, John and elk hunting with his brothers, Bill and Bob.
He took residence in the fall of 2004 at Memory Manor in the Alzheimer's wing, where he was lovingly cared for.
He was preceded in death by his wife, Sybil; and his five sisters, Francis, Helen, Martha, Dorothy, and Mary Jane.
He is survived by his five children, John and Patricia, Karen Arena and Charles, Gary and fiancee Linda, Raymond, and Tom and Cecelia; his three brothers, William, Robert, and Richard; ten grandchildren, and three great-grandchildren.
There was a rosary recited and funeral services at Holy Rosary Catholic Church in Pomeroy, followed by a graveside service at the Catholic Cemetery.
Memorials may be made to the Holy Rosary Church roof fund, the Holy Rosary Cemetery Endowment fund, or HUGS, c/o Garfield County Hospital District.
Wilbur John Wolf
Wilbur John Wolf passed away Saturday, April 28, 2007, at Clarkston Care Center.
Wilbur was born April 13, 1921, in Lewiston, to Christopher C. Wolf and Mary Alice King Wolf. Wilbur had five brothers: Joseph, Sylvan, Robert, Phillip and James, and four sisters: Mildred, Helen, Jeanne and Jeanette.
He attended school in Peola and at Holy Rosary Catholic School in Pomeroy. He graduated from Pomeroy High School in 1937 and attended business school in Spokane before returning to work on the ranch.
Wilbur married Margaret Frances Buck on Sept. 28, 1946, in Rhodes, Iowa.
He is survived by his wife of 61 years, Margaret; seven children, Linda Bartels, Stephen Wolf, Janice Short, Barbara Fournier, Dorothy, Daniel and David Wolf. He is also survived by 14 grandchildren and 15 great-grandchildren; two brothers, Robert and James; and two sisters, Jeanne and Jeanette.
Wilbur belonged to Holy Rosary Catholic Church, Knights of Columbus, Junior Chamber of Commerce, Garfield County Cattlemen's Association and Evergreen Grange. He loved his family, church, farming and Peola.
He enjoyed traveling with his wife by auto extensively in all states west of the Mississippi. They visited Canada several times - once driving up through British Columbia to Dawson Creek (which is milepost 1 on the AlCan Highway) and Peace River, then drove back down through Alberta. Wilbur and Margaret took a tour to Puerto Vallarta, Mexico, with the University of Iowa Voyagers and returned to Los Angeles on the Pacific Princess, the "Love Boat."
A Rosary was recited May 4, 2007, at Richardson-Brown Funeral Home, and the funeral Mass celebrated May 5, 2007, at Holy Rosary Catholic Church.
Memorials in Wilbur's name may be made to Holy Rosary Church.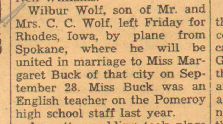 East Washingtonian "Down Memory Lane of Sept 20, 1956.