2010 Funeral Notices and Obituaries for Pomeroy Related People
Ferd Herres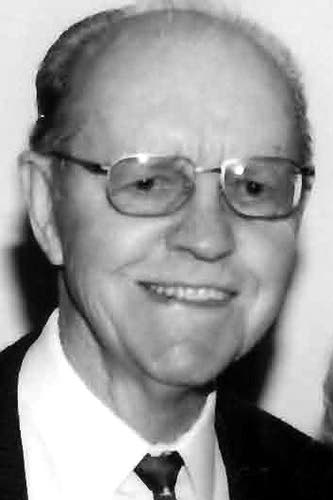 Ferd J. Herres, 89, died peacefully Monday, Dec. 20, 2010, at his Wheatland Village home in Walla Walla, with Audrey, his wife of 68 years, at his side. He was born April 18, 1921, in Pomeroy, to German immigrant parents, Michael and Mary Herres. He was the fifth of their 10 children.
He grew up on the family's farm, where cow milking and other chores inspired him to explore other career options after graduating from Pomeroy High School in 1938. He attended Washington State University, where he received a bachelor of science degree in agricultural education in 1942 and was an ROTC commissioned officer.
While at college, he met Audrey Beechinor one Sunday after Mass. From that day forward, they were devoted to one another. Ferd and Audrey married at St. Patrick's Church in Walla Walla July 12, 1942.
Ferd was immediately called into military service in the infantry, but was transferred to the U.S. Army Air Forces, where he became a B-17 bomber pilot. Capt. Herres flew 33 missions between England and Germany during World War II. He and his crew survived a bailout on their last mission, landing on the coast of England.
Returning to civilian life in Pomeroy after the war, Ferd and Audrey opened a business, Farm and Home Supply. Through the years, they owned and operated a hardware store, a Case farm implement dealership, and a Chevy car and truck dealership on Main Street.
He was steadfastly loyal to his large extended family, community, church and college. He contributed his time and expertise to a variety of organizations, including the Garfield County Hospital board, Pomeroy Chamber of Commerce and the Knights of Columbus. He was an avid WSU Cougar supporter and fan.
At the corner of Seventh and High streets in Pomeroy, Ferd and Audrey continually opened their door and hearts to countless people who shared stories, meals and overnight stays. They offered a kind of hospitality that reflected their generosity and deep sense of community.
Ferd was appreciated by all who knew him for his quiet, good nature, friendly smile and dry sense of humor. His tenaciousness and discipline were apparent in all he did. Ferd worked full time at his business until age 78, when retirement became necessary due to heart surgery. When confronted with the challenges of Parkinson's disease, he met them head on, learning all he could about the disease and taking informed action to maximize his enjoyment of life. He and Audrey participated actively in Parkinson's support groups for more than 10 years. Benefiting from their characteristic teamwork and courage, Ferd continued to live a functional and productive life. They moved to Wheatland Village in Walla Walla in 2008.
In addition to his wife, Audrey, Ferd is survived by their three children, Jerry Herres and Libby of Kennewick, and Carolyn Michael and Virginia Wise, both of Olympia; as well as six grandchildren, six great-grandchildren, one sister and three brothers, and a niece, Joan Kay Herres of Pomeroy. He was preceded in death by one grandson and five brothers.
Memorial gifts may be made to the Garfield County Hospital, Holy Rosary Parish in Pomeroy or the Sisters of the Holy Names in Spokane.
A funeral Mass was celebrated on Friday, December 24, 2010, at Holy Rosary Catholic Church.
William L. (Bill) Meyers (1923-2010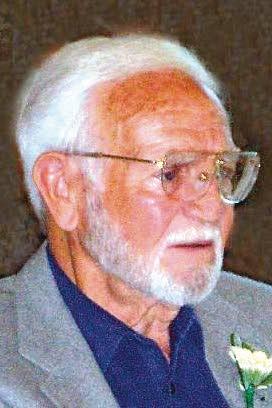 William L. (Bill) Meyers, 86, of Clarkston, passed away Saturday, July 31, 2010, at home. He was born Oct. 9, 1923, in Pomeroy, to William Louis Meyers and Mary Elizabeth Keatts. He grew up in Pomeroy, where his family owned and operated a wheat farm. Bill's father was a well-known master harness maker and sold harnesses for the horse-drawn combines in the Garfield County area. Bill attended Holy Rosary Catholic School through the ninth grade and then attended Pomeroy High School, where he graduated in May 1941.
Bill was accepted to Gonzaga University in Spokane. He was an extraordinary dancer and was able to pay for his college expenses by working as a dance instructor. After completing one year at Gonzaga, Bill transferred to Washington State College and was accepted into veterinary school. In 1945, Bill received his doctoral degree in veterinary medicine. Bill was in an accelerated program at WSC and attended college during the summer months to become the second-youngest to ever graduate from the veterinary school at WSC. After receiving his degree, Bill practiced veterinary medicine in Oregon for two years, from 1945-1947.
In 1947, Bill moved to Clarkston and opened a private practice, Meyers Animal Clinic.
William married Frances M. Culver in June 1947 at Clarkston, and she preceded him in death Feb. 10, 1978. He and Darlene Gorset were married May 1979 in Lewiston. She also preceded him in death November 19, 2006.
In 1959, the animal clinic burned down. However, with just his home and one outbuilding standing, Bill preserved and continued his practice in an old, one-truck garage next to the burned-out clinic with only an operating table and the instruments that could be salvaged from the fire. The rebuilt clinic is now where Walla Walla Community College, Clarkston Center, is located. Bill later moved his clinic and practice to the now-existing Riverview Animal Clinic where his youngest son, William Jr., and Senior have practiced together for 28 years.
Bill was the quintessential sportsman and received great joy being in the outdoors. The most memorable hunting and fishing trips were the ones he shared with family and friends in Washington and Idaho. Many other wonderful hunting and fishing trips were taken to the Yukon, Kenai and Seward, Alaska, Costa Rica and Mexico. On his hunting trips to the Yukon he garnered many great trophies such as: moose, elk, caribou and bighorn sheep.
Bill was also an avid golfer and had been a member for several years of the Clarkston Golf and Country Club.
He was an active member of Holy Family Catholic Church in Clarkston. He was also a former member of the Knights of Columbus and was a former fire commissioner for several years. Bill was a founding member of the Clarkston Jaycees. He was a 4-H leader for Twin Rivers 4-H Club.
Surviving Bill are his sons, Michael J. Meyers of Clarkston, Patrick W. Meyers of Olympia and William L. Meyers Jr. of Clarkston; daughters Kathryn E. Carruthers of Bainbridge Island, Wash., Rebecca A. Meyers of Othello, Mary E. Meyers of Rainier, Wash., Martha S. Meyers-Harris of Cheney, and Stacie L. Meyers-Ellenz of Custer, Wash.; and a brother, Richard J. Meyers of Pauma Valley, California; as well as 16 grandchildren and eight great-grandchildren.
Besides his parents and both wives he was also preceded in death by his sisters, Frances Robertson, Helen Harding, Mary Jane Aiken, Martha Hastert and Dorothy Howe; brothers Robert Meyers and Jack Meyers; and a grandson, Tyler D. Johnson.
The rosary will be recited at 7 p.m. Friday at Merchant Funeral Home in Clarkston. A Mass of Christian Burial will be celebrated at 9 a.m. Saturday at Holy Family Catholic Church in Clarkston. The Rev. Richard Root will officiate.
In lieu of flowers, the family suggests memorials to the Helping Hands Rescue, spay and neuter program or Christian Children's Fund.
Jeanne Beatrice (Wolf) Price
Jeanne Beatrice (Wolf) Price, age 80, of Pomeroy, passed away Friday, March 19, 2010, at St. Joseph Regional Medical Center in Lewiston, from a sudden brain hemorrhage.
She was born Jan. 30, 1931. It was a snowy day and her dad, Christopher C. Wolf, drove her mother, Alice King Wolf, by sleigh from Peola to Columbia Center, where they were met by Dr. Sherfey and proceeded to Pomeroy. She was born in the old Pomeroy hospital, now the home of Merle and Janice Baldwin. She was the eighth of 10 children. In the winter the family moved to Pomeroy so the children could attend school and then they moved back to the ranch at Peola for the summer.
She graduated from Pomeroy High School in 1947. After attending nursing training at Walla Walla Hospital for one year, Jeanne married Kenneth W. Price on May 22, 1949, in Clarkston. They were married for almost 61 years. They made their home 12 miles west of Pomeroy on Kenny's family farm, where he still resides.
Jeanne was a homemaker and a farm wife. She worked at Garfield County Memorial Hospital from 1968 until her retirement in 1993, helping send all four of her daughters and her nieces to college.
Surviving are her brothers, Bob and wife Carol Wolf, and Jim Wolf, all from Clarkston; and her dear sister, Jeanette Fischer of Pomeroy. Also survived by her daughters, Kimberly and husband Jim Burke of Nine Mile Falls, Wash., Cynthia (Cid) and husband Bob Johnson, and Julie and husband Curt Claassen, all of Pomeroy, and Amy and husband Jim Kirschner of Redmond, Wash. She had 11 grandchildren, 11 great-grandchildren with one on the way, and one great-great-grandchild.
When she was raising her family, most of Jeanne's activities centered around them. She hand-sewed and ironed dresses by the dozen, kept up her big home, and canned and cooked for the hired hands. She made two trips to town each day so her girls could attend Catholic grade school. She supported all of their activities in high school.
In her retirement years, she had more time to care for her yard. She loved her flowers, especially her roses. Jeanne will be remembered by her grandchildren and great-grandchildren for the Christmas cookies she made every year for them to frost. She was an avid Mariners baseball and Gonzaga basketball fan. She and Kenny enjoyed traveling together.
Jeanne was a member of Holy Rosary Catholic Church and active in the Altar Society. She was also a member of the Spade Swingers Garden Club and was chairman of the local Multiple Sclerosis Society.
She was preceded in death by her mother, Mary Alice Wolf; her father, Christopher C. Wolf; brothers, Joe, Sam, Wilbur and Phil Wolf; and sisters, Mildred Baden and Helen Wolf, who died as a child.
A rosary was recited and a Mass of Christian burial wwas celebrated at Holy Rosary Catholic Church in Pomeroy.
Memorials may be made to the Inland Northwest Chapter of the Multiple Sclerosis Society, 818 E. Sharp, Spokane, WA 99202; (please specify that the memorial is given in memory of Jeanne Price) or to a charity of the donor's choice.