Velma Alice (Long) Young
Velma Alice Young passed away Wednesday, Nov. 15, 2006, one month before her 100th birthday, at Memory Manor Nursing Home in Pomeroy.
Velma was born Dec. 14, 1906, in Pomeroy, to Walter and Ella Long. She grew up in the Meadow Gulch area and attended the Rainwater School.
She married Edward Young in 1924. They celebrated their golden wedding anniversary in 1974. They farmed in Columbia County and the Deadman Creek area, raising wheat and cattle. They later moved to Pomeroy so the girls could attend high school and churches. Ed died in 1987.
Velma lived in the Evergreen Care Center in Clarkston, and then spent approximately two years at the Garfield County Memory Manor.
In addition to her husband and parents, Velma was preceded in death by her grandparents, Alice and Enoch Hastings of Pomeroy; a daughter, Ruth Young of Pomeroy, at age 37; a sister, Florence Morgan of Pomeroy; three brothers, Dallas Long of Dayton, Everett Long and Lorraine Long, both of Pomeroy; and three grandsons, Nicholas Robertson of Pomeroy, Michael Greeley of Aberdeen, Wash., and Steven Greeley of Spokane.
She is survived by two daughters, Betty Schumacher of Clarkston and Jean Greeley of Spokane; a sister, Aileen Denny of Pomeroy; a grandson, Kenneth Robertson of Clarkston; and four granddaughters, Shannon Howard of Milton-Freewater, Ore., Roseanne Edwards of Sandpoint, Idaho, Constance Munn of Kendrick, and Camela Maier of Sacramento, Calif.
A funeral will be at 1 p.m. Tuesday, Nov. 21, at Richardson Brown Funeral Home in Pomeroy. Burial will be at the Pomeroy City Cemetery.
Darrel Ray Bartels
Darrel Ray Bartels, 76, of Pomeroy, passed away Wednesday, August 2, 2006. He was born in Garfield County February 16, 1930, to Johnnie W. and Mabel V. Colwell Bartels. The doctor came to deliver him in a snowstorm. Drifts formed and the doctor had to be pulled out to the highway by horse and buggy.
Darrel grew up on his parents' farm, attending a one-room country school until he was 13. He graduated from Pomeroy High School in 1949 and served in the U.S. Army from 1950 to 1951.
On June 14, 1953, he married Barbara Trescott, who survives him at their home.
Darrel worked as a parts man for General Tractor until he opened Darrel's TV Sales and Service in Pomeroy, which he ran for 27 years. He then spent eight years at Pomeroy Grange Supply.
In retirement, he loved driving grain truck for his son-in-law Greg. He had a distinct ability to work and have fun at the same time. He could have founded the American Pranksters Association.
A person who loved people, he belonged to the Pleasant Grove Grange, Washington Flying Farmers, the Pomeroy Methodist Church, and was an emergency medical technician. He was a past president of the Jaycees, Chamber of Commerce, Alumni Association, Pioneer Association and Garfield County Hospital Board, all in Pomeroy.
Darrel left a legacy of love felt by those who knew him, as well as a legacy that, beyond the grave, life continues. A graveside service was held at the Pomeroy City Cemetery followed by dessert at the Methodist Fellowship Hall in Pomeroy.
Other survivors include two daughters, Cindi Herres and Julie and Greg Scott; one son, Allen Bartels and fiancee Deb Rowell; eight grandchildren; three great-grandchildren; and a brother, Duane Bartels, all of Pomeroy; sister, Phyllis Stallcop of Pullman; and several nieces and nephews, all in whom he delighted.
His parents, a brother, Denzil, and an infant son, Darren Lee preceded him in death, as well as beloved cousins Julia Rickman and Ella Porter.
Donations may be made to the Alzheimer's Association or the Pomeroy Methodist Church in care of Richardson-Brown Funeral Home in Pomeroy.
Betty W. (Shawley) Keatts
Betty W. Keatts passed away peacefully on Sunday, Sept. 24, 2006, at her daughter's home in Lewiston, with family at her bedside, after a courageous battle with cancer.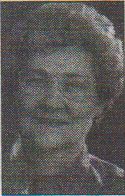 Betty was born on May 2, 1917, in Garfield County on the Shawley Homestead at Pataha Flat. She attended Pataha Flat School and graduated from Pomeroy High School in 1936. After graduation she worked at Emerson Hull Department Store and Dr. Sherfey's.
Betty was the middle child of James Ernest and Kate Aurene Williamson Shawley. She married James Richard Keatts on Aug. 25,1940, in Pomeroy.
Together the couple owned and managed the Revere Hotel in Pomeroy for seven years, and then a motel at Hermiston for two years. They then moved back to Pomeroy to farm until 1983, when they moved into town after retiring.
Betty was a member of St. Peter's Episcopal Church in Pomeroy. The couple adopted three daughters in 1957.
Betty was preceded in death by her husband Richard in 1997; her parents; and two sisters.
She is survived by her three daughters and their spouses, Suzanne and Bob Burge of Clarkston, Linda and Jerry Jackson of Spokane, and Dorothy and Ken Bausch of Lewiston; grandchildren and great-grandchildren, Michael and Jeanette Ruchert and Michaela; Todd and Alesia Ruchert, Makenzi, Taelor, Mitchell, and Max; Paige and Todd Danielson, and Kate; Jennifer Johnson, Shane and Cody; Jason Jackson; Karlee and Tim Meade, Tyler, T.J. and Chase; Angela Bausch, Stephen Bausch, Sayler and Tai; Michelle Bausch and Bailey.
A memorial service was held at Mountain View Funeral Home in Lewiston, with burial at Pomeroy Cemetery following the service.
Memorials may be made to St. Joseph Family Hospice, P.O. Box 79, Lewiston, ID 83501.
Billy (Bill) E. Greene
Billy (Bill) E. Greene passed away Monday, July 31, 2006, at Tri-State Memorial Hospital in Clarkston, as a result of a head trauma from a fall at his home.
He was born July 15, 1943, to William R. Greene and Helen G. Dorval Greene in Oregon City, Ore.
In 1961 he graduated from Pomeroy High School and joined the Army in August of that year. As a soldier he was a paratrooper and a member of the special services in the Vietnam era, receiving an honorable discharge in May of 1964. Bill then went on to attend Eastern Washington State College in Cheney.
On Dec. 11, 1964, he married Lynn Watson at Coeur d'Alene. Two children were born to this union. They were later divorced. In the early 1970s they moved to Clarkston, and he resided in the Clarkston Heights until his death.
For the majority of his work life he worked in sales and financing with 19 years of service at Lewiston Grain Growers as grain marketing manager.
He was proud to be a cowboy and took pride in his horses and cow/calf operation. Bill flagged rodeo events and competed in team roping. He served on the Asotin County Fair Board and Washington and Asotin County Cattlemen's associations.
Bill is survived by a son, Ken Greene of Caldwell; a daughter, Kimberly Burt and husband Dave of Genesee; granddaughters, Brittney and Courtney Burt, and grandson, Derek Burt, all of Genesee; his mother, Helen Greene of Pomeroy; sisters, Mary Helen Wilsey and husband Jerry of Pomeroy, Deanna Drazan and husband Joe of Walla Walla, Beverly Chandler and husband Jeff of Lewiston, Barbara Boots and husband John of Cheney; and brother, Jim and wife Mary of Pomeroy; and uncle, Ted Greene of Anchorage, Alaska. Also surviving are several nephews and nieces.
He was preceded in death by his father, Bill Greene.
A memorial Mass was celebrated at at Holy Rosary Catholic Church in Pomeroy followed by inurnment at the Catholic Cemetery in Pomeroy, with a luncheon to follow.
Memorial contributions may be made to the American Cancer Society or a charity of the donor's choice, in memory of Bill.
Boyden W. "Buz" Houtz
Boyden W. "Buz" Houtz Passed away Saturday, April 15, 2006, at his home in Walla Walla surrounded by his family and his wife of thirty-four years, Alice Donovan Houtz.
Buz was born to Jerome Holland and Mary Ann Lees Houtz on May 16, 1925, at McGill, Nevada. He was the oldest of three children born to that union. The family later moved to Ely, where he attended school in White Pine County. They moved to Tacoma, in 1940 where Buz graduated from Lincoln High School. In his senior year, he enlisted in the U.S. Navy. He served in the Atlantic, the European theater, the Caribbean and the South Pacific. During the Korean conflict, he served in the North China Sea. In 1949, Buz married Elizabeth (Graham) Aronson of Tacoma. This union was blessed with four children.
He graduated from Washington State College with a Bachelor of Science degree in 1950. After managing two purebred cattle ranches, Buz joined the U.S. Dept. of Agriculture as a soil conservationist, working from Grays Harbor County to Garfield and Asotin Counties.
Buz is survived by his wife Alice, and sons, Dan Houtz of Lacey and Terrill Houtz and wife Rose of Pomeroy, a daughter Elizabeth Alexander and husband David of Olympia, and grandchildren Miles & Grady Lee Alexander and a brother Jay Houtz and a sister Nancy Hankins of Walla Walla. Buz was preceded in death by his daughter Christine Houtz.
Memorial contributions may be made to St. Jude's Children's Research Hospital.
--News Tribune (Tacoma) on May 14, 2006.
Mary Kathleen McCabe Vassar
Mary Kathleen McCabe Vassar passed away in her sleep Monday, April 3, 2006, at the Lewiston home of her son, Bob and Darce Vassar, who had cared for her for the last few years. She was 90.
She was born June 15, 1915, at Pomeroy, to C. Alex and Anne Marie Mock McCabe. Kathleen attended Holy Rosary Catholic School and then Pomeroy High School, where she graduated in 1933.
She enrolled at Whitman College in Walla Walla for two years then transferred to Washington State College in Pullman, where she graduated in 1937. She maintained a four-point grade average in all of her college courses and was a Phi Beta Kappa. While attending college she was a member of Kappa Kappa Gamma sorority. After graduation she worked for one year as a secretary for the WSC Agriculture Extension Office in Pullman.
Kathleen and Vincent V. Vassar were married Sept. 27, 1938, at Holy Rosary Catholic Church in Pomeroy. They made their home in Lewiston, where Vincent was associated with his brother, Andrew, in the operation of Vassar-Rawls Funeral Home, which was founded by their father and grandfather in 1898. Upon Vincent's death on Feb. 19, 1976, Kathleen became vice president of the funeral home and assisted her sons, Richard and John, in its operation until her retirement in 1991.
Over the years Kathleen was involved in many civic, charitable and religious organizations in the valley. She was a founding member and secretary of the St. Joseph Regional Medical Center Auxiliary in the 1950s and again when it was reorganized in the 1970s. She served as secretary of the American Cancer Society for more than 30 years. She was a founding member and first president of the Lewiston Jaycee-ettes. She was a member of the Tsceminicum Club. She was a founding member of the Lewiston Welfare League (Service League), and was a favored model in its annual style show. In 1976, she received the Altrusa Club's outstanding community service award. For more than 30 years she was an election judge and registrar for precinct 7. When her children were young she was both a Cub Scout leader and a Camp Fire leader. In 1964 she received a national leadership award from the Camp Fire Girls Association.
Kathleen was very involved with the Lewiston Catholic community. She was a member of St. Stanislaus Catholic Church and had served on its parish council, liturgy committee, as a religious education instructor and on the school's Parent-Teacher Association. She was a past regent of the Court Cataldo, Catholic Daughters of the Americas and of its state organization. She was selected the Idaho State Catholic Daughter of the year in 1976. She belonged to St. Mary's League.
Being a gracious hostess came naturally to Kathleen and she orchestrated many memorable showers, receptions and holiday events. She had a large collection of vintage clothing and staged style shows for many community events. For more than 60 years she belonged to a close-knit bridge club, whose members were some of her dearest friends.
Although Kathleen traveled extensively, her favorite place to visit since early childhood was her family's cabin, Shady Rest, in her beloved Blue Mountains south of Pomeroy, where she relished searching for the first buttercups, mushrooms and huckleberries of the season. She also enjoyed camping with her family.
Survivors include six children and their spouses, Richard and Joan Vassar, John and Jan Vassar, and Bob and Darce Vassar, all of Lewiston, Bill and Ginny Vassar of Clarkston, Susan and Jeff Chilcott of Mukilteo, Wash., and Mike Vassar of Tacoma. She is also survived by two brothers, Jim McCabe of Pomeroy and Bert McCabe of LaConner, Wash.; seven grandchildren, Anne, Brian, Jason and Katie Vassar, Kevin Chilcott, and Stacy and Dan Speicher; and four great-grandchildren. Kathleen helped raise a niece, Mary Ann Beggore of Burlingame, Calif. Other survivors include her sister-in-law, Imogene Vassar of Lewiston, and many nieces and nephews.
She was preceded in death by twin sons and her brothers, Patrick and Robert McCabe.
A vigil service was held at Vassar-Rawls Funeral Home in Lewiston. The funeral Mass was celebrated at St. Stanislaus Catholic Church in Lewiston. Burial followed at Normal Hill Cemetery in Lewiston.
The family suggests that those wishing to make memorial contributions do so to the St. Stanislaus Tri-Parish School Foundation, 641 Fifth Ave., Lewiston, ID 83501.