March 29, 2009--Brittany Gordon of Pomeroy placed 2nd in the Annual Terry Jordon Memorial Award for Organ Study. Five finalists competed for the Awards on Saturday, March 28 at the United Methodist Church of Moscow.

The recital and competition were established in 2001 as a collaborative effort of the Methodist Church and the local chapter of the American Guild of Organists to honor the life of former church organist Jordan and to promote interest in the pipe organ. The award provides one or more organ students with funds to further study of the organ. Entrants were required to submit a recording of two contrasting pieces of music; an essay explaining their goals as a musician and a little about their performance experience, and what they plan to use the award funds for if they were to win; and a resume of their musical education, performance and competition experiences, awards & honors received, and performance experiences.

Brittany, a high school freshman, is in her second year of organ studies. She studies at the studio of Dr. Jill Schneider, Pullman, Washington.

David Buckley of Colfax and Meredith Thompson of Orofino, Idaho, tied for the first place award. Brittany Gordon received the second place award. Corinne Reagan of Pullman earned the 3rd place award, while Brendan Gordon (no relation to Brittany Gordon) placed 4th. Each contestant won a cash scholarship prize and a year's membership in the Moscow-Pullman Branch of the American Guild of Organists.

Organists performing in the recital on Sunday included Susan Billin, Mary Carloye and Jill Schneider, as well as guest instrumentalists Carol and John Reid. The competition finalists also played in the recital which took place at the Methodist Church.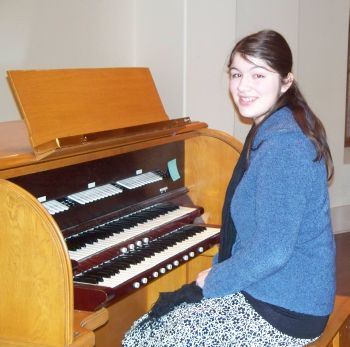 Brittany Gordon at the organ of Moscow's
United Methodist Church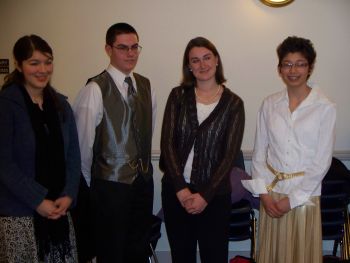 (Left to right) are Brittany Gordon, David Buckley, Corinne Reagan, and Meredith Thompson