2014 Funeral Notices and Obituaries for Pomeroy Related People
Bill Cardwell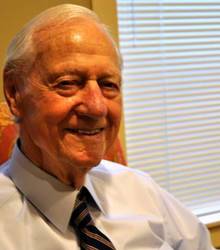 Bill Cardwell was born Nov. 20, 1915, in Pomeroy. He died peacefully in Seattle just before his 99th birthday (2014).
He grew up in Pomeroy and graduated from Pomeroy High School in 1933. After a year of helping build the family retail business, he attended the University of Washington. He graduated with a bachelor's degree in business and finance in 1938. While in school, he met Mary Kay Taper. They were married June 1, 1939.
They moved to Pomeroy, where Bill worked in the family department store. He joined the U.S. Navy during World War II. They sent him to Harvard for training, then stationed him in Hawaii, where he encrypted military messages. He returned from the service in 1946; he and Mary Kay bought Cardwell's Department Store in 1949. From 1964 to 1967, they opened a second business, a craft shop called The Variety Store. Bill sold the business in 1972, ending 73 years and three generations of family ownership in Pomeroy.
He consistently gave his time as a merchant, a school board member and an active community volunteer to help make Pomeroy a great place to live. He strongly supported Scouting. He became an Eagle Scout at the young age of 13. Scouting definitely made an impression, and set important standards that he followed throughout his life. As an adult, he spent decades as a Scouting volunteer for Boy and Cub Scouts, and encouraged his four sons to become Eagles. For his dedication, he was awarded the Silver Beaver Award, the highest honor for Scouting leaders. Privately, he thought about the Scout laws daily as a compass for living his life. He was trustworthy, loyal and helpful to family and friends. He was courteous and kind to everyone. He maintained a positive and cheerful attitude, and took responsibility for a happy and productive life. He was concerned about the needs of others. He was brave and always played a clean game. He believed in God, church and country.
Bill had a strong work ethic. He always kept a to-do list and put in long hours at the store. He enjoyed family, gardening and athletics. He loved to golf. He retired in his mid-50s and continued to play two or three rounds a week until he was 93!
Bill and Mary Kay lived most of their lives in Pomeroy. They moved to Walla Walla in 1995. Mary Kay died Jan. 24, 2010. In January 2012, Bill moved to the Foundation House in Bothell, Wash., a friendly and happy independent living facility located close to family. Throughout his entire life he was physically and mentally active, with a remarkable memory for people and events.
Bill is survived by four sons and their spouses, Rich (Suzanne) of Seattle, Ray (Gail) of Edmonds, Washington, Jim (Karla) of Orlando, Florida, and Chris (Mary) of Lake Sammamish, Washington. He leaves nine grandchildren and 13 great-grandchildren.
Bill was a lifetime member of St. Peter's Episcopal Church. Funeral services will be held at 10 a.m. Saturday in Pomeroy at the Richardson Brown Funeral Home. He died feeling happy and humble about the life he was able to lead. He was deeply loved by his family and friends and will always be missed.
Gennady Michael Selivanoff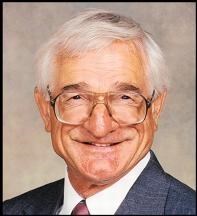 Michael died September 9th [2014] at home after a long battle with lung cancer. He was 81 years old. Michael was born 1933 in Seattle to Michael Paul and Janina Selivanoff. He attended Highline High School and Seattle University where he received a degree in Civil Engineering. He served his country proudly in the Army Air Corps during the Korean War. The patriotism he learned in the service never left him, as family members will attest. He was an avid fly fisher and spent many wonderful days fishing Washington rivers.
Michael is survived by his wife Kathy; sons Joseph (Gemini), Peter and John (Stefani), daughter Teresa Thornton (Steve), step-daughters Juliann Hernan (Lucinda), Elizabeth Golden and Jennifer Sullivan, many grandchildren, great-grandchildren and nieces and nephews. He was preceded in death by two brothers, two sons and a daughter.
A Memorial Mass will be held at St. George Church in Seattle on September 30 at 11:00 a.m. In lieu of flowers donations may be made to the Providence Hospice, 425 Pontius Avenue North, Seattle, WA 98109.
Francis Sylvester Flerchinger
On Friday, Sept. 5, 2014, Francis Sylvester Flerchinger joined his wife, Susie, in heaven.
Francis was born Aug. 12, 1918, at the family farm in Peola to Edward Nicholas and Emma Josephine Wolf Flerchinger.
He received the sacraments of baptism at Sacred Heart Church in Peola and first holy communion and confirmation at Holy Family Church in Clarkston. He attended school at Peola and Pomeroy through his sophomore year. As was customary of the time, he left school to work various jobs with farmers in the area to help support the family.
With the onset of World War II, he was drafted into the U.S. Army and served from February 1941 until June 1945. Thirty-eight months from April 1942 until June 1945 were spent in the Pacific theater. During his service, he obtained the ranking of sergeant and received the Good Conduct Medal, American Defense Service Medal, Asiatic-Pacific Service Medal, the Philippine Liberation Medal and a Bronze Service Star.
After the war, he returned to Garfield County and his roots working for area farmers. From 1952 until 1956, he worked for Carl Dixon. He then worked at Lewiston Grange Supply as a diesel mechanic, where he took pride in the fact he drove and repaired the first self-propelled, self-leveling combine in the area, a Massey-Harris. He returned to the Mayview, area in 1960 to farm for Marion Bye after her husband Vern's death. During this time, the Bye farm received Soil Conservation Farm of the Year because of the implementation of strip cropping for erosion control. He worked for the Byes until Gary took over the farm in 1978. He then worked at Dye's Seed Ranch and McKiernan's Hardware as a diesel mechanic until he retired in 1980.
On Sept. 6, 1952, he entered into the sacrament of marriage with Susie Aimee Wade Start at Holy Family Church in Clarkston. He embraced her son Stephen Lewis Start and daughter Catherine Sue Start as his own, and they were joined by Richard Edward in 1953 and Carolyn Annette in 1964.
After macular degeneration affected his sight in 2006, he lived at Garfield County Long Term Care. In 2013, with his health declining, he moved to Colonial Vista Long Term Care in Wenatchee to be near his daughter Carolyn and family.
He enjoyed hunting and fishing. He got great pleasure out of cooking, especially the Thanksgiving turkey. He was always happy to participate in a good-spirited debate. He was well-known for his joy of singing and bursting into song.
He was preceded in death by his wife, Susie; and son, Rick; as well as his parents; three brothers; and three sisters.
He is survived by his sister, Edwardine Klien of Coeur d'Alene; his son, Steve Start of Spokane; daughter Catherine (Gordon) Bilyard of Sequim, Wash.; daughter Carolyn (Andy) Hannas of Wenatchee; grandsons Kevin (Mui) Start of Spokane, Andrew Start of New York, Will Start of Spokane; granddaughter Jamie (Dylan) Bowers of Moses Lake; grandson Bradley (Gloria) Spanton of Spokane; granddaughters Kylie Hannas of Maui, Hawaii, Felicia Hannas of Wenatchee; grandson Lucas Bramell of Asotin; two great-grandsons and four great-granddaughters; besides numerous nieces and nephews.
Rosary with viewing preceding will be at 7 p.m. Thursday at Holy Rosary Catholic Church in Pomeroy. Burial Mass will be held at 10 a.m. Friday at Holy Rosary Catholic Church in Pomeroy with graveside services immediately following at the church cemetery. A luncheon will follow at Holy Rosary Catholic School. In lieu of flowers, the family asks for donations to HUGS, c/o Garfield County Hospital District, 66 N. Sixth St., Pomeroy, WA, 99347.
Jeanne Adayne (Ingram) Barkhuff
Jeanne died at Tri-State Medical Center in Clarkston on Friday, July 25, 2014. She was 91. Jeanne was born on October 22, 1922, and was the second daughter of Dr. and Mrs. Jesse Ingram of Walla Walla, WA. She grew up in Walla Walla and graduated from St. Paul School for girls. Jeanne attended Washington State University where she met Floyd H. Barkhuff. They married on Oct. 2, 1943. She lived the life of a farmer's wife on the wheat/pea/barley and cattle family homestead farm in the Colton area until her husband's death in 1971. She enjoyed crocheting, knitting, crossword puzzles and reading the daily paper.
Jeanne was preceded in death by her parents, her sister, her husband Floyd and her daughter Virginia. She is survived by son Bruce and his wife Connie of Pomeroy; daughter Paula Flathers of Pullman; son Gordon of Virginia Beach, Virginia, and son Dale of Fairbanks, Alaska. She also is survived by 11 grandchildren, 18 great grandchildren and numerous cousins, nieces and nephews.
A memorial service was held at Kimball Funeral Home, Pullman, on Friday, August 1, 2014 followed by graveside services at Pullman's IOOF Cemetery. The family requests any memorial contributions be made to a favorite charity.