Saturday, January 21, 1922
page 1
POMEROY HIGH SCHOOL
BEATS TOUCHET 23-21
(Communicated)
The high school basketball team defeated the Touchet high, in one of the roughest and most one-sided officiated games they have ever played.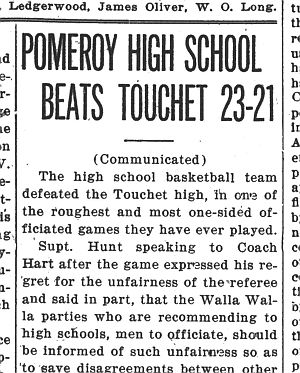 Supt. Hunt speaking to Coach Hart after the game expressed his regret for the unfairness of the referee and said in part, that the Walla Walla parties who are recommending to high schools, men to officiate, should be informed of such unfairness so as to save disagreements between other teams.
It was an off night for Kidwell, he being unable to make several easy shots. Mast was the star for Pomeroy, following the ball at all times he was in possessionof it more than any two other players. McNair playing his first game was outstanding to his defensive work, never allowing his opponents an open shot. Oliver played a whirlwind game for the time he was on the floor, but was put out on personal fouls after eight minutes of play. Weber replacing Oliver played a good game, being very fortunate not to have a foul called on him.
Heppner at center and Fisher at forward were the consistent players for the southerners. Following is the line up:
| | | |
| --- | --- | --- |
| Pomeroy | | Touchet |
| Kidwell | lf | E Yeager |
| Sanford | rf | Fisher |
| McNair | c | Heppner |
| Mast | lf | G Yeager |
| Oliver-Webber | rg | Davis |
Field baskets: Kidwell 3, Sanford 3, McNair 3, Mast 1; Fisher 2, E Yeager 2, Heppner 2. Fouls: Kidwell 3 out of 8; Fisher 7 out of 15.
The next game is with Waitsburg here Friday, Jan. 27. Last year Waitsburg defeated Pomeroy. We have no record of P. H. S. ever winning from Waitsburg in basketball.