Personal Mention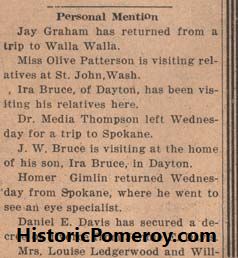 Jay Graham has returned from a trip to Walla Walla.
Miss Olive Patterson is visiting relatives at St. John, Wash.
Ira Bruce, of Dayton, has been visiting his relatives here.
Dr. Media Thompson left Wednesday for a trip to Spokane.
J. W. Bruce is visiting at the home of his son, Ira Bruce, in Dayton.
Homer Gimlin returned Wednesday from Spokane, where he went to see an eye specialist.
Daniel E. Davis has secured a decree of divorce from Jennie F. Davis.
Mrs. Louise Ledgerwood and William Ledgerwood are visiting relatives at Spokane.
Rent and clerk hire only $260 per month. Why can't we sell at reasonable prices? J. G. Morris.
Mrs. Evelyn Collins attended the military ball at the state college Saturday night.
The farmers cooperative gasoline pump now operating at rear of J. G. Morris hardware store.
M. D. Flerchinger has returned from a trip to Lewiston, where his son and two daughters are going to school.
Prices reduced. Ten per cent reduction made on all farm machinery except wagons and cutting machinery. E. M. Rauch Implement Co. 53-4
James Hazelton returned Thursday from Spokane, where he was called to attend the funeral of his step-daughter, Mrs. Charles La-Manse.
Durgan's Dairy. Phone 43Y. 47-t
After visiting her mother, Mrs Janeway and sister, Mrs. Jesse Scoggin, Mrs. N. P. Miller returned to Walla Walla Sunday. She was ac companied by Mr. Miller.
How about a nice Baby Bee Roast for Sunday dinner. You can get it at the Cash Market. Phone 174. 51-tf
Mrs. Phil Brown and Bryson Ferrell were passengers for Walla Walla Sunday. Mrs. Brown was returning home from a visit to her relative here.
## 30 ##